Final Race Week Schedule
Ready to run like a thoroughbred? Race week is here! Please read below for some VERY important information about packet pickup.
Registered Runners / Walkers to do list:
Download, print and bring your waivers HERE.
Download Event Information Sheet with all the details HERE.
Santa Anita Derby Day 5K is committed to SafeSport. Please find out more  HERE.
PACKET PICKUP:
Please have your ID and waiver to pick up your race packet. Family and friends can pick up for others but they must bring the printed signed waiver and a copy of ID. 

Friday, April 8,  4:00 PM – 6:30 PM:
Walk-in Registration/Bib & T-shirt Pick-Up at Westfield Santa Anita: 400 S Baldwin Ave, Arcadia, CA 91007; Pick-Up located INSIDE, at the entrance to Gold's Gym on the 1st Floor. 
Saturday, April 9, 6:30 AM – 8:00 AM:
Santa Anita Race Track Parking Lot – Gate 3 (click for Google Map). Packet Pick-Up will occur near Gate 3 and the Start Line from 6:30 AM – 8:00 AM. We highly encourage runners to get there early and to carpool! T-shirts will be available for pick-up in the infield/finish line after completing the race.
Family and friends can pick up for other runners but they must bring a copy of the waiver. If you're picking up for children under 18, no ID is needed.
RACE SCHEDULE:
6:30 am       Registration (T-shirt pick up at finish line/infield only)
8:00 am       5K Run (wave starts)
8:20 am       5K Walk
8:30 am       Entertainment, Music, Beer Garden in the Infield Expo
9:45 am       *Kids' 6-Furlong Race (7-12 yrs)
10:05 am     *Homestretch Dash (6 & under)
10:15 am       Awards Ceremony
12:00 pm      Thoroughbred Racing
4:00 pm**    $750,000 RUNHAPPY Santa Anita Derby
*Kids' Races start on Race Track, look for the black inflatable arch
**Subject to change
PARKING: We are expecting 5,000 runners and walkers. Please arrive at least 1 hour before your expected start time. This will allow you time to park, warm up and pick up your registration materials if you didn't pick them up on Friday.
Please enter the parking areas from Gates 3, 5, or 8. Gate 8 will close at 7:45 AM. After 7:45 AM. please enter from Gate 3 or 5.
TIMING CHIPS/BIBS: Your timing chip is on the back of your bib. Please do not fold your bib. All participants must wear their bib on the front of their shirt for race photos, to gain access to the infield and finish line, to receive a medal, and to enter the Beer Garden. DO NOT TAKE OFF YOUR BIB. Additionally, your bib is your ticket back into Santa Anita Park if you leave and come back.
WAVE STARTS: Participants will walk from their corrals into the official Starting Gate and run from the gate.
Please line up behind the gate according to your anticipated pace per mile.
8:00 AM               8 MINUTES/MILE & UNDER

8:04 AM               9 MINUTES/MILE

8:08 AM               10 MINUTES/MILE

8:12 AM               11 MINUTES/MILE

8:16 AM               12 MINUTES/MILE & OVER
8:20 AM               ALL STROLLERS & WALKERS
WALKERS & STROLLERS: We will have a separate corral for strollers and walkers. Please do not line up in the running corrals if you have a stroller or plan to walk. The course is very narrow in a variety of locations and we want everyone to be able to run. Strollers will NOT be able to pass through the starting gate. as the gate is not wide enough. All strollers will need to walk around the gate and over the timing mat.
T-SHIRTS, Etc.:
T-shirts and Goodie Bags will be available in the infield (if you did not pick up at the mall). 
Race Programs are available at the 5K T-shirt booth inside the Infield.
Club House passes for a future Santa Anita Park are in your goodie bags when you pick up your t-shirts.
Hold onto your bib numbers! You will need those to go in and out of the race track on Saturday and to enter the Golden Road beer garden if you are over 21.
KIDS' RACES: Kids' races begin on the track. Registration for the Kids' Races will be available in the infield from 9:00 AM – 9:50 AM. Please take the tunnel under the track to get to the infield. Look for the black inflatable arch.
RESULTS & AWARDS:
Get results via text message straight to your phone by signing up for Athlete Update here. Results will be posted adjacent to the finish line at our new results kiosks with laptops. Results will also be available online at DerbyDay5K.com.
Run With Us Store Gift Certificates will be given to the top 3 males & females in each 5K division.
$500 Seabiscuit Prize Purse to Top 3 runners overall in Open and Master's Division (Over 40)
POST RACE PARTY FEATURING:
Live music by Kelly's Lot
20+ vendor booths with giveaways, samples etc.,
Golden Road Beer Garden for registered participants! You must show ID to enter the beer garden (Only 21 years and over are allowed inside).
Tell your friends and family that they can register on-site on Friday and Saturday.
Join us in the infield for a post-race after-party and expo!
Que Buena Radio will be playing some tunes and giving away prizes.
Methodist Hospital nurses are doing health screenings.
We also have a beer garden for registered race participants 21+ featuring two beers from Golden Road Brewing, Mango Cart and Golden State Cerveza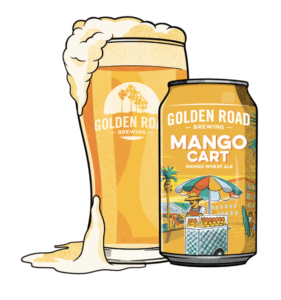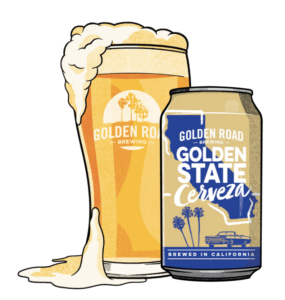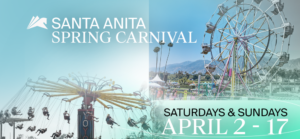 An Infield full of fun is coming to The Great Race Place on Santa Anita Derby weekend!
Don't miss out on this event! The Spring Carnival brings fantastic twists and turns to Santa Anita Park. The carnival features inflatable bounce houses, carnival games, and amazing rides.
Special Deal for Runners:
Santa Anita Derby Day 5K and kids race participants get free admission and get $10 off unlimited ride wrist bands (priced at $30) – show your running bib to get the discount on-site on April 9.