5K & Kids Run Courses
Kids Races
The Kid's Races offer children ages 12 & under an opportunity to "Run Like the Ponies"! We ask parents to stay behind ALL kids for the start of the race.  After the runners spread out, then parents will be able to catch up and run with their kids*.
At 9:45 am – Ages 7-12 will compete in a 6-Furlong race. Starting close to the main finish line, they will run around the track, completing 3/4 mile, finishing at the main finish line.
At 10:05 am – Ages 6 & under will run in the "Homestretch Dash" (approx. 50 yards) down the track's straightaway, finishing at the main finish line.
Awards:
All registered kid finishers receive a Kid's Finisher's Medal, T-shirt and goodie bag!  There are no age division awards for Kids Races, and parents running with their children will not receive a medal.
Spring Carnival:
The Santa Anita Spring Carnival brings amazing twists and turns to Santa Anita Infield which you can enjoy after the 5K Walk/Run. All 5K & Kids Race participants have the chance to pre-purchase an unlimited ride wristband for only $15 (regular price $30) Rides open at approximately 9:00 am! You can purchase your discounted wristband while you register!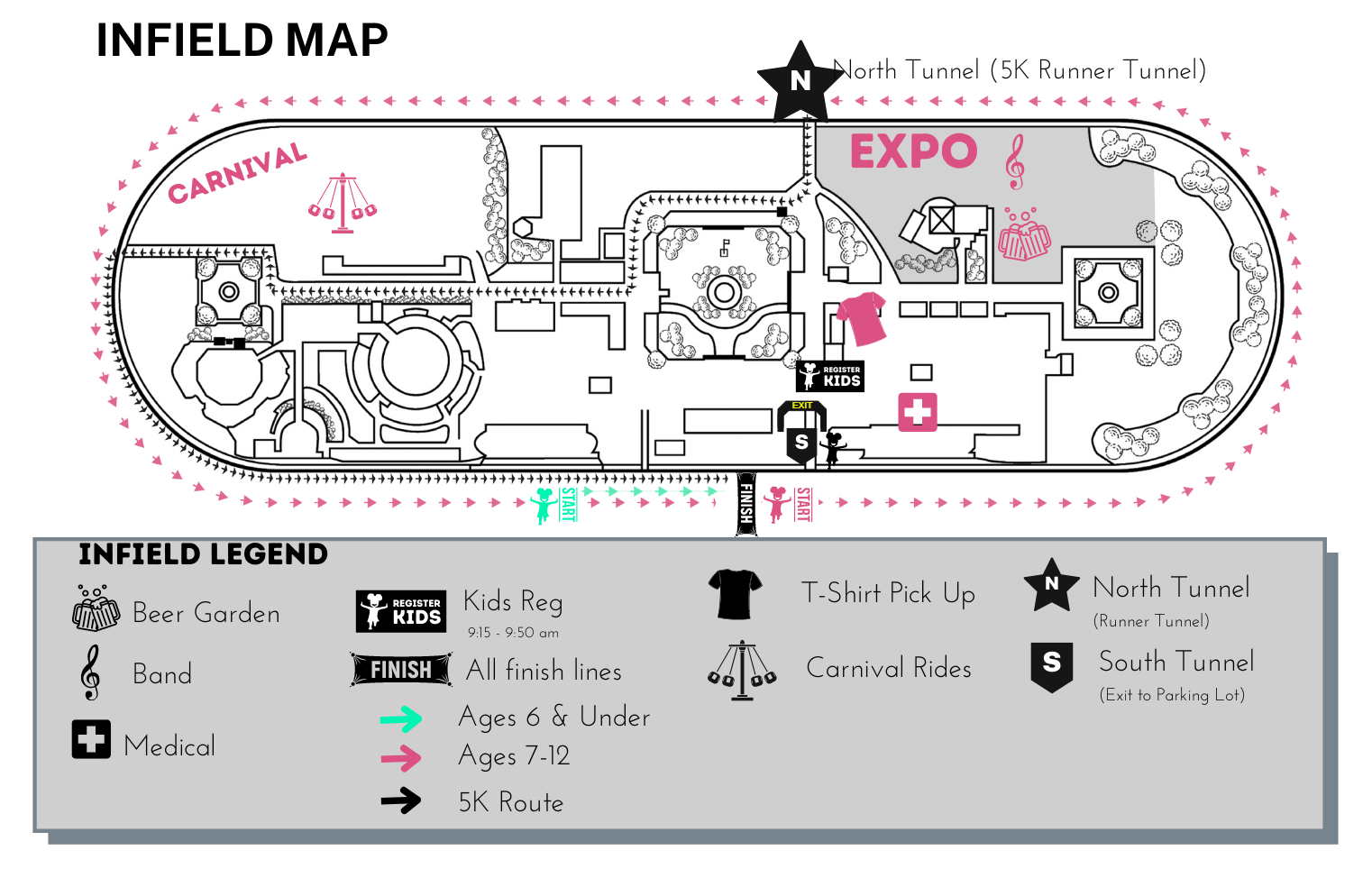 5K Course
The 5K Course starts near Gate 3 and runs through the beautiful Los Angeles County Arboretum & Botanic Garden, finishing on the legendary Santa Anita Race Track!  The 5K will start in waves, every 2 minutes, beginning at 8:00 am.  The final wave will be for walkers & strollers.
Course Support
There is a water station located in the Arboretum at approximately Mile 2.  In addition, restrooms are available at the water station.
Awards:
The top 3 male and female in each division (open and masters) will receive an age division award!